ConnectALL Adapters
Explore all the tools you can integrate using the ConnectALL Integration Platform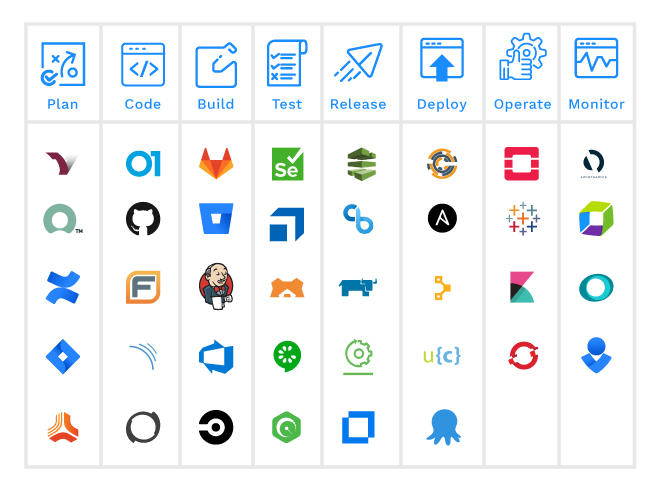 The software development and delivery value stream consists of best-of-breed, modern and homegrown tools (Agile and DevOps) mixed with legacy tools. Paired with its Universal Adapter, ConnectALL's Value Stream Integration Platform integrates your value stream and an unlimited number of tools for seamless collaboration, bi-directional information capture and exchange, automated event triggering, and much more.

ConnectALL's proactive testing process makes it easy to support new applications and handle upgrades and API changes to support new features, new versions, security and stability fixes on applications. The integrations support tools with bi-directional synchronization and a "configuration, not coding" approach to simplify migration and integration.
The ConnectALL Value Stream Integration Platform comprises the following and more:
Built-in vendor adapters enable users to integrate many of the most common applications used to collaborate, drive decisions and manage artifacts used during the software delivery process, including ALM, Agile and DevOps.
The Universal Adapter extends ConnectALL's native capabilities, enabling users to establish an unlimited number of integrations with any third-party tool and experience the same bi-directional synchronization of project-related data and actions available in existing ConnectALL vendor adapters.
ConnectALL's Database Adapter allows you to sync data bi-directionally from any tool in your software development and delivery value stream to a database of your choice.
Talk to our product specialists and learn how ConnectALL can enhance your value stream by integrating your people, processes, and teams. Request a demo.