Value Stream Management Platform
Accelerate Software Delivery by Managing Your Value Stream
Learn how to improve product quality and increase visibility to maximize your flow of value today.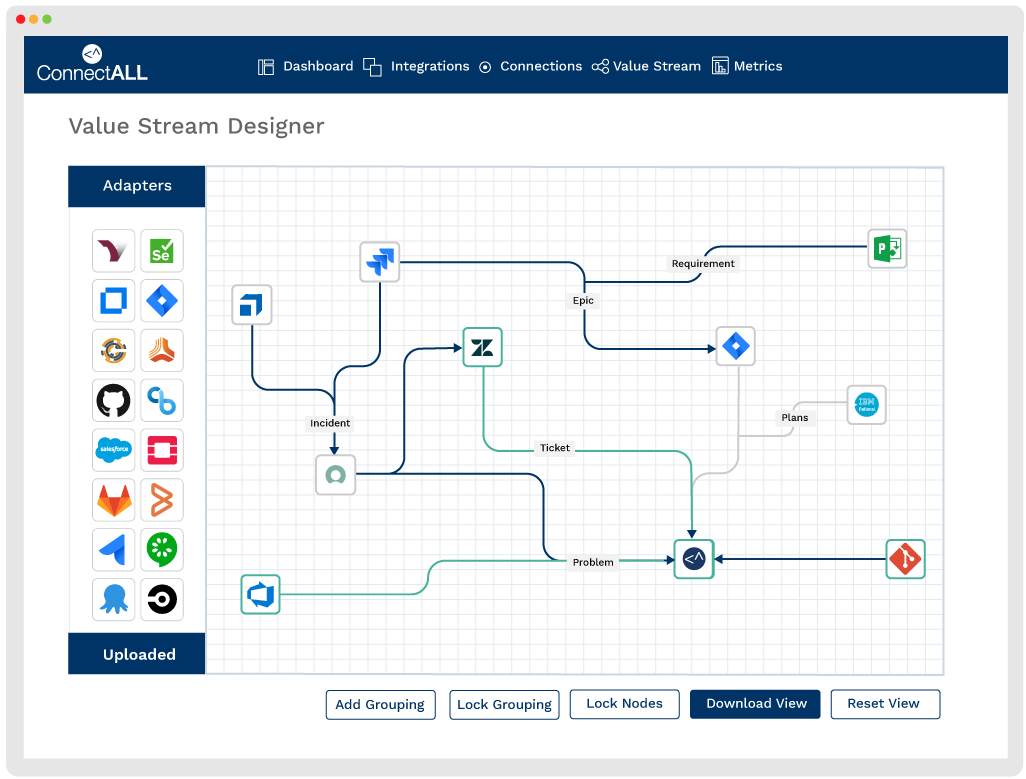 Why Use ConnectALL's Value Stream Management Platform?
Value stream management enables you to achieve higher levels of agility, traceability, predictability and velocity by connecting people, processes and technology across your software development and delivery value streams.

Visualize every step in your end-to-end value streams, and monitor real-time performance using smart analytics dashboards.

Get complete control of workflows across the value stream by monitoring the real-time progress of your software.

Enable teams to move faster by eliminating manual updates, improving collaboration and enhancing communication between teams.

Become predictable in your software delivery by measuring key flow metrics and monitoring the real-time status of your work.

Reduce time-to-market and increase efficiency by identifying bottlenecks and eliminating waste in your value stream.
Positively impact your bottom line by discovering opportunities to remove unnecessary overhead and lower production costs.
Want to learn how to accelerate your software delivery?
Work with our value stream architects to map out the current and future state of your software value streams. In this complimentary session, we will identify the tools, the people, and the processes that transform ideas into working software.
SCHEDULE MY VALUE STREAM ASSESSMENT NOW
What Can You Do with a Value Stream Management Platform?

Integrate Tools
Connect unlimited applications, tools, and systems across your value stream using our Value Stream Adapters for bi-directional synchronization

Orchestrate Workflows
Coordinate multiple automated workflows between disparate systems to instantly update your frequently occurring processes

Display Critical Metrics
Identify your most important flow and business metrics across the end-to-end value stream and view them in real-time on your Insights Analytics dashboard

Enforce Governance
Incorporate governance and security controls throughout the software delivery process to identify and eliminate vulnerabilities

Capture Data for Measurement
Harvest the data from all of your software delivery tools in one place using the Insights Adapter, and organize it using ConnectALL's common data model

Visualize Value Streams
Create an interactive and customizable diagram to map your end-to-end software delivery value stream using the Value Stream Visualizer
How ConnectALL's VSMP Works in 3 Steps

Using the Visualizer, see and monitor the end-to-end flow of work across your entire software delivery value stream.

Using Insights Analytics, utilize data from across your value stream to measure the metrics that matter and become more predictable.

Using ConnectALL's VSMP, fully automate your software delivery value stream by integrating tools, orchestrating workflows, establishing governance, and synchronizing environments.