Transforming Software Delivery Through Value Stream Management
Broadcom has added ConnectALL's cutting-edge technology to its ValueOps Value Stream Management Portfolio. This strategic addition aims to revolutionize the way organizations connect and integrate various software tools and platforms. By leveraging ConnectALL's innovative solutions, businesses can now gain exciting new insights that unite their enterprise with real-time data, ultimately expediting their digital transformation goals. Now organizations will be empowered to streamline their software delivery value streams using a single, comprehensive solution.
We are dedicated to empowering organizations like yours to see, measure, and automate their software delivery value streams. We help the world deliver the digital experience that customers demand, while also helping the organizations themselves become more predictable, agile, and traceable. With Broadcom's ValueOps VSM Portfolio now incorporating ConnectALL's technology, organizations can align their digital initiatives to business outcomes and significantly improve the speed at which they deliver valuable software. The addition of ConnectALL and ValueOps VSM delivers the industry's premier Value Stream Management Platform, offering a comprehensive suite of solutions and services that enable businesses to drive efficiency and effectiveness in their software delivery processes.
Why ConnectALL? Check out our platform!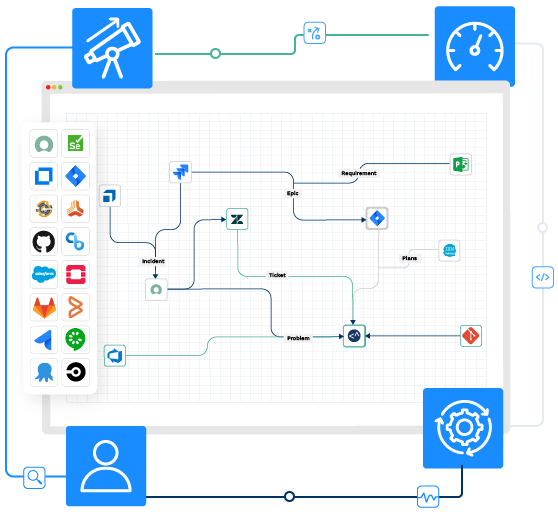 The Human Side of Software Delivery with Value Stream Management
This is a true story about the inception of ConnectALL LLC, a company that has revolutionized software delivery and become a leader in the Value Stream Management (VSM) space.
In recent years, ConnectALL has gained significant recognition and support, receiving awards, accolades, and endorsement from industry experts and analysts. However, their proudest achievement lies in changing the lives of their customers.
ConnectALL's journey began when two IT stalwarts, Lance Knight and Brett Taylor, had a visionary idea that would change the face of software. Lance Knight, fueled by restored faith in humanity, shared his vision of making ConnectALL a Value Stream Management company.
In late 2016, during a phone call bridging two continents, an industry-shattering decision was made. ConnectALL was on its way to becoming an independent entity and a leader in the VSM space.
In 2017, Lance Knight officially joined the company, and with strategic positioning by Brett Taylor and Tom Stiling's expertise, ConnectALL gained the momentum needed to put their plans into action.
By 2018, ConnectALL emerged as an independent entity and made a significant impact on the industry. With a year of planning, building, and strategic hiring, including the addition of agile-extraordinaire Andrew Fuqua, ConnectALL established itself as the premier thought leader in Value Stream Management.
ConnectALL's rise to prominence shook the industry, as the underdog emerged as the Value Stream Management leader. Their commitment to revolutionizing software delivery for the humans they work for propelled them forward. ConnectALL's mission goes beyond developing a product or solution; they aim to deliver to "the human side" of software.
Despite the numerous feathers in their cap, including support from analysts and industry experts, ConnectALL's proudest achievement remains the positive impact they have on their customers' lives. Their dedication to empowering organizations and enabling their digital transformation goals is unwavering.
Now, fast forward to 2023, with Broadcom adding ConnectALL's technology to its ValueOps VSM Portfolio, the possibilities for organizations are even greater. This addition allows businesses to connect and integrate numerous software tools and platforms, gaining exciting new insights that unite their enterprise with real-time data. By leveraging a single solution, organizations can expedite their digital transformation goals and drive efficiency in their software delivery processes.
The addition of ConnectALL's Technology to Broadcom's ValueOps VSM Portfolio opens up new horizons for organizations seeking to align their digital initiatives with business outcomes and accelerate their software delivery. Businesses can embark on a transformative journey to become more predictable, agile, and traceable while delivering the digital experiences that customers demand.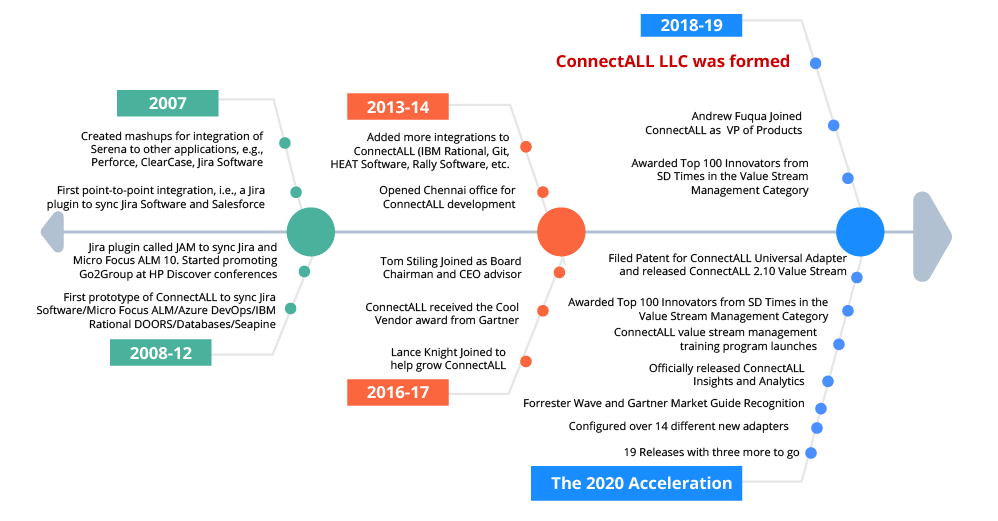 We like to say that value stream management is human. Therefore, we exist to enable those humans to deliver on their personal and professional goals, allowing them to do what they love more effectively than ever before.