Transforming Software Delivery Through Value Stream Management
ConnectALL is dedicated to empowering organizations like yours to see, measure, and automate their software delivery value streams. We help the world deliver the digital experience that customers demand, while also helping the organizations themselves become more predictable, agile, and traceable.
We have the industry's premier Value Stream Management Platform. ConnectALL's solutions and services enable you to align your digital initiatives to business outcomes and improve the speed at which you deliver valuable software.
Why ConnectALL? Check out our platform!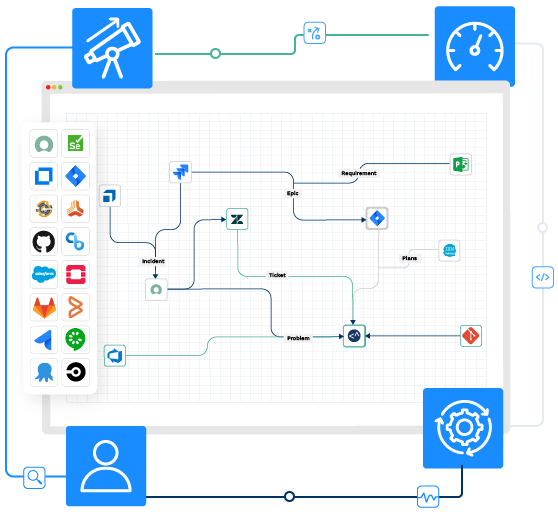 The Human Side of Software Delivery with Value Stream Management
This is a true story about the inception of ConnectALL LLC.

Two IT stalwarts had a premonition about how they can change the face of software with a single brilliant idea. Fueled by his restored faith in humanity, and inspired by Brett Taylor, Lance Knight voiced out his vision to make ConnectALL a Value Stream Management company.
In late 2016, close to Christmas-time and two continents apart, these two men dabbled with a revolutionary idea over a phone call. Brett was on his way to The Great Wall of China with his son, and Lance was being called off to lunch by his wife in Atlanta. By the end of this call, an industry-shattering decision was made. ConnectALL was on its way to becoming an independent entity and a leader in the VSM space. Then, the real work began.
By 2017, Lance Knight had officially joined the company, and Brett began to strategically position ConnectALL for this move. The addition of Tom Stiling's strategic expertise gave this formidable "Three Musketeers'' the momentum needed to put their plans into action.
ConnectALL officially emerged in 2018 as an independent entity, and then BOOM! They took the industry by storm. After a year of planning, building, and strategic hiring (including the addition of agile-extraordinare Andrew Fuqua), ConnectALL emerged as the premier thought leader in Value Stream Management — leaving industry experts in shock! Suddenly, everyone in the industry was forced to realize — the underdog had emerged as the VSM leader. The company we never expected to make such a massive impact is here to stay.
This is our story. It is a story of how we have worked to build more than a product, more than a solution, more than a company. With our think tanks and our team coming together, we want to revolutionize software delivery for the humans we work for.

Every single day, we strive to deliver to "the human side" of software.

We may have several feathers in our cap, support from analysts and industry experts, awards and accolades. However, our proudest achievement is changing the lives of our customers.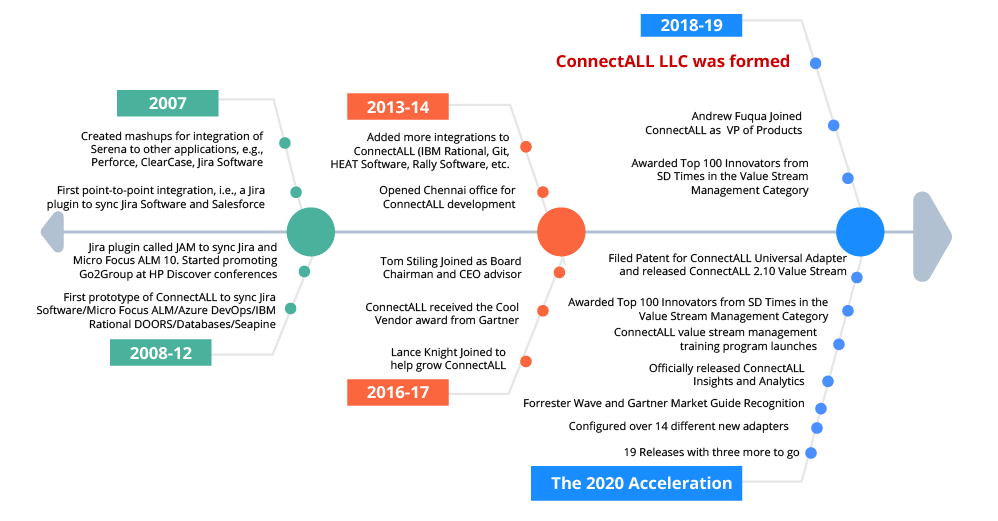 We like to say that value stream management is human. Therefore, we exist to enable those humans to deliver on their personal and professional goals, allowing them to do what they love more effectively than ever before.