SKILup Days 2021 — Value Stream Management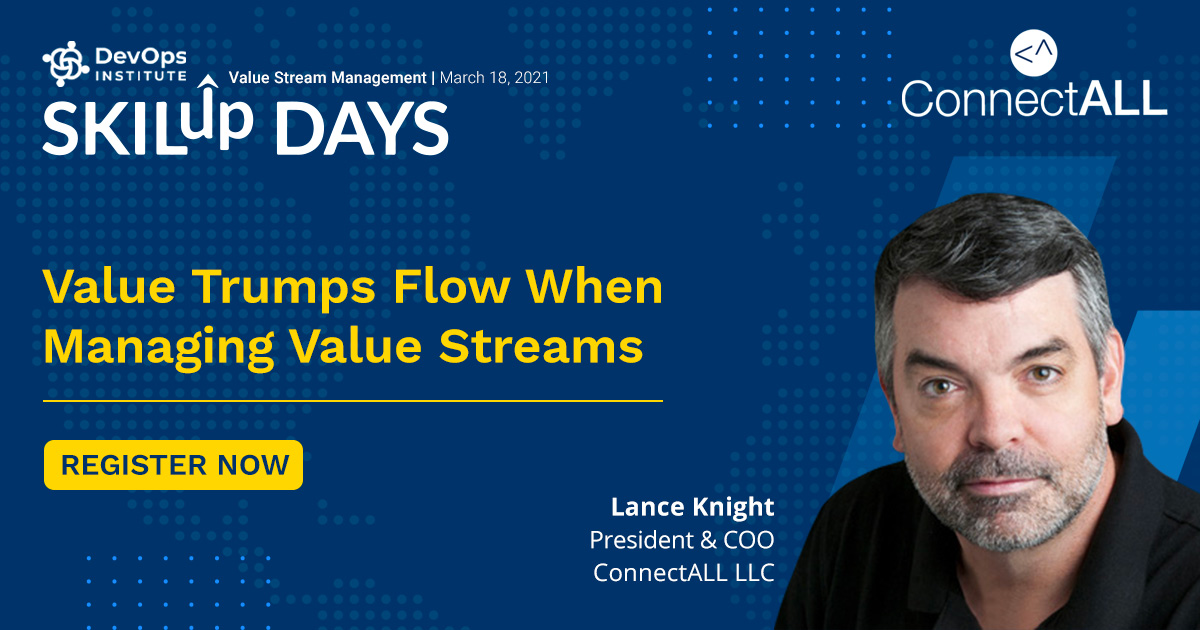 SKILup Days 2021 — Value Stream Management
ConnectALL is proud to be one of the sponsors for SKILup Days 2021 — Value Stream Management hosted by DevOps Institute. It's a great platform to learn and share VSM best practices. Meet our team at our booth and don't miss out our exclusive talk!
SKILup Days are for all members of the IT community, including students, practitioners, and decision-makers. SKILup Days are one-day virtual micro-conferences focused on specific industry practices that examine "how-to" perspectives of the people, process, and technology aspects of IT. Value Stream Management is a combination of people, process, and technology that maps, optimize, visualizes and governs business value flow (including epics, stories, work items) through heterogeneous enterprise software delivery pipelines.
Value Trumps Flow When Managing Value Streams

Speaker: Lance Knight
Time: –
Over the past few years, there has been a renewed interest in value stream management in software delivery and development. This renewed interest is focused mostly on improving Flow. Companies are assuming that focusing on Flow is a way to improve business outcomes with their digital transformation initiatives. Still, as they become more efficient, they realize they're not delivering any more value to their customers. The lean decision filter of Value Trumps Flow, Flow Trumps Waste Elimination, and Eliminate Waste to Improve Efficiency can help organizations decide what to improve and what impact the improvement of Flow and removing waste may have on business value. Join Lance Knight as he discusses the lean decision filter and how to apply it to improving both Value and Flow.