What Value Stream Management Isn't – VSM DevCon 2021
VSM DevCon 2021
ConnectALL is proud to be a sponsor of one of the biggest virtual VSM summits. We are excited to talk about the current state and the future of Value Stream Management and how organizations can accelerate software delivery.
Virtual VSM DevCon is a one-day, digital conference examining the benefits of creating and managing value streams in your development organization. At Virtual VSM DevCon, you will learn how to apply value stream strategies to your development process to gain efficiencies, improve quality and cut costs.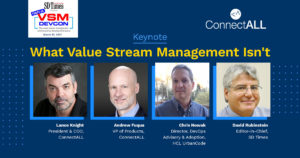 Keynote presentation: What Value Stream Management Isn't
Speaker: Lance Knight, Andrew Fuqua, Chris Nowak, David Rubinstein
Time: 10:05 AM EST
There are a few definitions of Value Stream Management (VSM) floating around out there. Most seem pretty good, but they are necessarily very broad and maybe vague. That's because value stream management is a very broad concept. Given the hype around these three words, and how it's often shortened to two words, there is a lot of confusion. Maybe it will help if we discuss what value stream management isn't.

Join Lance Knight, President & COO, ConnectALL, Andrew Fuqua, VP of Products, ConnectALL, Chris Nowak, Director, DevOps Advisory & Adoption, HCL UrbanCode, and David Rubinstein, Editor-in-Chief, SD Times and Moderator in this interesting discussion on the misconceptions about VSM that lead to critical mistakes, a better understanding of what VSM really is and what VSM helps organisations achieve and how VSM can help businesses drive their objectives and goals.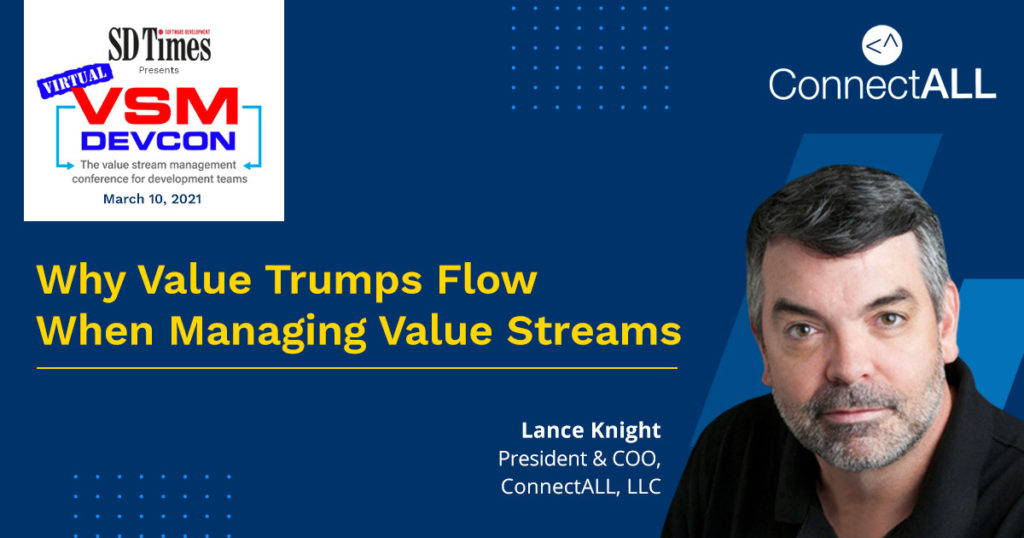 Why Value Trumps Flow When Managing Value Streams
Speaker: Lance Knight
Time: 11:50 AM EST
Over the past few years, there has been a renewed interest in value stream management in software delivery and development. This renewed interest is focused mostly on improving Flow. Companies are assuming that focusing on Flow is a way to improve business outcomes with their digital transformation initiatives. Still, as they become more efficient, they realize they're not delivering any more value to their customers. The lean decision filter of Value Trumps Flow, Flow Trumps Waste Elimination, and Eliminate Waste to Improve Efficiency as defined by David J Anderson can help organizations decide what to improve and what impact the improvement of Flow and removing waste may have on business value. Join Lance Knight as he discusses the lean decision filter and applying it to improve both Value and Flow.