In the rapidly changing software world with multitude of tools being released every day for software development and delivery, and DevOps practices, the need is to use a technique that helps businesses visualize the value that flows across the business from customer requests to customer delivery. With companies adopting value stream management as a means to look at the flow of value across their software delivery value stream, visibility needs to be simplified rather than complicated.
To meet this challenge, ConnectALL has created version 2.10 of its Value Stream Management Platform, which is packed with value stream empowerment capabilities, including an interactive Value Stream Visualizer, enhanced lean metrics to provide actionable data for better decision-making, and a brand-new UI that will augment user experience, no matter what tool they use. ConnectALL is also proud to introduce www.valuestreammanagement.com, a free platform that will enable users to login and create their value stream maps, access it any time and share it with their teams. These capabilities endow teams with functionality and project visibility never before available in the value stream management (VSM) space.
This release comes after ConnectALL announced its patent-pending Universal Adapter that connects hundreds of tools, even the ones that haven't been created yet. The Universal Adapter extends ConnectALL's native capabilities, enabling users to establish an unlimited number of integrations with any third-party tool and experience the same bi-directional synchronization of project-related data and actions available in existing ConnectALL vendor adapters.
"With this latest release, ConnectALL is empowering the real drivers of VSM – humans – to automate their entire value stream, as well as gain unprecedented visibility with granular insight into activities at every level and stage of the process," said ConnectALL COO Lance Knight.
The Universal Adapter and Visualizer, in tandem with the lean metrics that flow from the ConnectALL solution, enable companies to radically streamline the efficiency of their software delivery pipeline.
Let's learn a little more about these new offerings in 2.10 and how it will change your experience and business:
Track end-to-end activities with the exclusive Value Stream Visualizer feature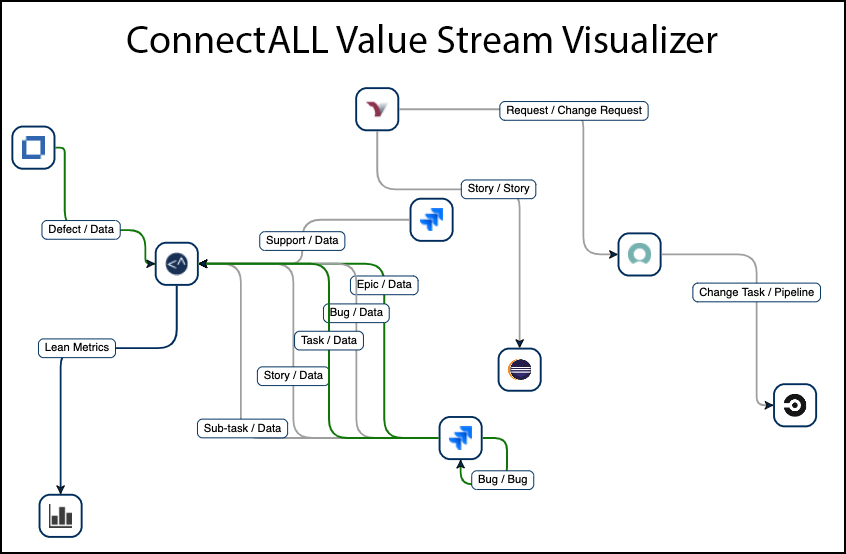 The Value Stream Visualizer, which is embedded within the ConnectALL product, has been designed to help businesses map out the flow of value across all their integrated tools, no matter what they are. The visualizer generates an interactive diagram that traces the path of each integration mapped within ConnectALL, as well as additional elements and connections – such as manual steps, paper/physical artifacts, customers, and suppliers – to fully map and provide real-time visibility of the entire software value stream. Users can edit integrations from within the map, or from within the UI and the map will be updated automatically.
The Visualizer automatically populates the value stream map with all the applications in your value stream integrated through ConnectALL. Each user can map out his own view or perspective of the value stream. VSM views can be created for each group (organizational unit) as well as for the overall corporation. Maintaining maps is easy; objects on the map can be manipulated in the GUI with drag-and-drop.
The Visualizer is interactive, dynamic and fully customizable. Users can even add their own images to represent anything they wish to represent in the map. Users also can download a snapshot of the map to share outside the system.
The new domain www.valuestreammanagement.com is exclusively for users to access and create static value stream maps outside of the ConnectALL Value Stream Management Platform.
Make better decisions with enhanced lean metrics from actionable, relevant data
ConnectALL Value Stream Insights is a real-time data acquisition and ingestion framework for data warehousing, BI and analytics. It allows business leaders and project heads to make informed decisions from ConnectALL's Insights on the value in hidden data. This gives them end-to-end visibility of the entire pipeline, current business value, process details like build time, roadblocks in testing, missed releases, a birds-eye view of issues and bottlenecks, amplification of feedback loops for continuous improvement, and vulnerabilities, which can be course corrected before the code goes into production, allowing teams to reduce waste between processes to increase time-to-market and time-to-value.
ConnectALL Insights captures all observable activities and computes lean metrics out of the box – including process time, cycle time, lead time, flow time, wait time, value added time, MTTR, escaped defect ratio, WIP, blocker data, queues, throughput and production impact – to provide teams with actionable data about the health of their value stream. The Database Adapter allows ConnectALL to aggregate data in any database, extending lean metrics reporting capabilities to the user's BI tool of choice.
Value Stream Insights can gather data from any source. For example, it continuously captures data from ALM and DevOps sources such as Micro Focus ALM/QC, Atlassian's Jira, ServiceNow, IBM Doors and other tools and applications used by DevOps teams. ConnectALL can easily capture and load streaming ALM and DevOps data into a data store, ingest multiple streams of data instantaneously and continuously, and load the data continuously or at scheduled intervals. Using the data gathered by ConnectALL, users can perform what-if and other data analysis using ConnectALL Insights or their BI tool of choice.
Easily map artifacts with a new and enhanced user interface and field mapping capability
The new version comes with a brand-new user interface that makes it easier for users to use the platform, including a new search functionality within the field mapping feature.
In addition to its new Visualizer and enhanced lean metrics capabilities, ConnectALL allows teams to orchestrate multiple automated workflows between disparate systems, as well as streamline and optimize frequently occurring processes and workflows to deploy applications more efficiently. ConnectALL also can enforce governance rules, requiring that specific criteria be met before synchronizing changes and triggering events, providing greater automated control of the software development process. The ConnectALL Value Stream Integration Platform's built-in vendor adapters enable users to integrate the applications used to collaborate, drive decisions and manage artifacts used during the software delivery process, including ALM, Agile and DevOps.
All existing users of ConnectALL can easily upgrade to the 2.10 version, while any new customers will automatically get the 2.10 version.
Excited? We definitely are for you, your customers, and for us. So what are you waiting for? Be the first to know.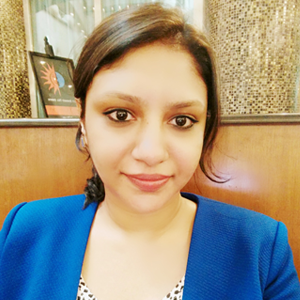 Head of Content Marketing at ConnectALL, responsible for communication and content marketing strategy. For two decades, I've assisted businesses to integrate content marketing into their marketing plans to achieve their business goals. I specialize in creating and developing content (inbound and outbound) across various online and offline channels from websites, blogs, and social media to email marketing and marketing communication collateral.