ServiceNow and VersionOne Integration
---
Improve collaboration and visibility between your customer service/support and development teams by integrating ServiceNow and VersionOne. This helps the teams get access to customer issues in real time, get status updates, understand requirements, and solve issues faster. The ConnectALL Integration Platform synchronizes data bi-directionally between these two best-of-breed tools, therefore eliminating copying and pasting tickets, use of spreadsheets and emails, duplicate data entry, and status meetings. Your teams can focus on delivering value, reduce quality issues, delivery delays, and unnecessary costs.
---
Synchronized entities between ServiceNow and VersionOne
Incident, Problem, Change Request, Test Management
---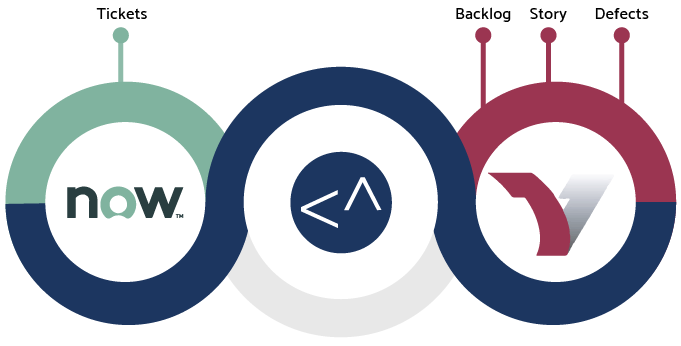 ---
---
Application Lifecycle Management

Project and Portfolio Management
Sign up for a free demo of ConnectALL now
---
Why Integrate ServiceNow and VersionOne
---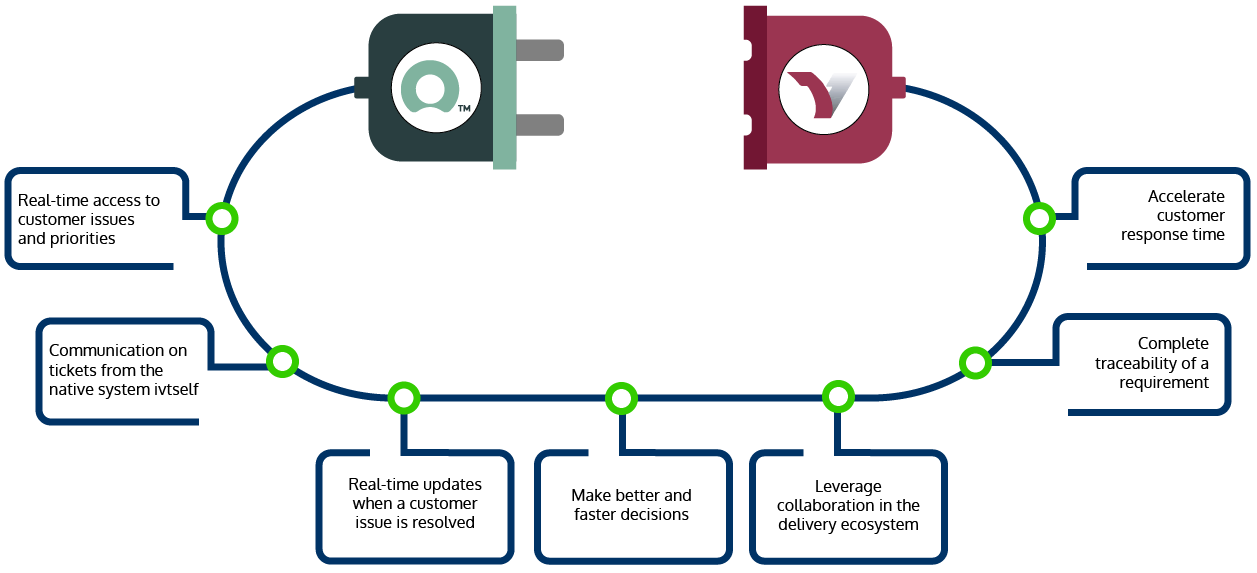 Benefits for ServiceNow and VersionOne users
Access business requirements and associated updates from within ServiceNow
Categorize and transfer customer tickets to VersionOne easily
No manual efforts to update status on customer issues and priorities
Traceability for business requirements
Visibility into customer issues and priorities
No dependency on manual communication to make decisions
---
ConnectALL syncs data (historical and current) automatically and bi-directionally between ServiceNow and VersionOne, giving the users access to customer requirements in real time. Tickets from ServiceNow synchronize into VersionOne and the entities attached to these tickets also synchronize back to VersionOne.
---
Customer logs a ticket and the support team member reports it to the development team without identifying the issue. Because of the lack of information, the development team also does not recognize the problem and this leads to back and forth communication between the customer, support and development teams.
---
Integrating ServiceNow and VersionOne will make sure the tickets are synchronized automatically with attachments as is in the native system. When a customer logs a ticket, the support team recognizes it as a problem and it gets logged as a bug in VersionOne. The development team comes up with a solution and attaches a file that the customer needs to run to resolve the problem. After the customer confirms the issue is resolved, the ticket is closed and the status automatically gets updated in ServiceNow.
More Integrations with ServiceNow
---
Integrate ServiceNow and Jira Software
Integrate ServiceNow and Jira Software using the ConnectALL Integration Platform
Integrate ServiceNow and Salesforce
Integrate ServiceNow and Salesforce using the ConnectALL Integration Platform
Ready to get started?
Explore the integrations, check out the features, or get in touch