ServiceNow and Salesforce Integration
---
Improve collaboration and visibility between your customer service/support and sales teams by integrating ServiceNow and Salesforce. This helps the teams get access to customer issues and priorities in real time and solve issues faster, eliminating communication gaps between customer-facing teams. The ConnectALL Integration Platform synchronizes data bi-directionally between these two best-of-breed tools, therefore eliminating copying and pasting tickets, use of spreadsheets and emails, duplicate data entry, and status meetings. Your teams can focus on delivering value, reduce time taken to resolve issues, and communicate with customers seamlessly.
---
Synchronized entities between ServiceNow and Salesforce
Incident, Problem, Change Request, Test Management
---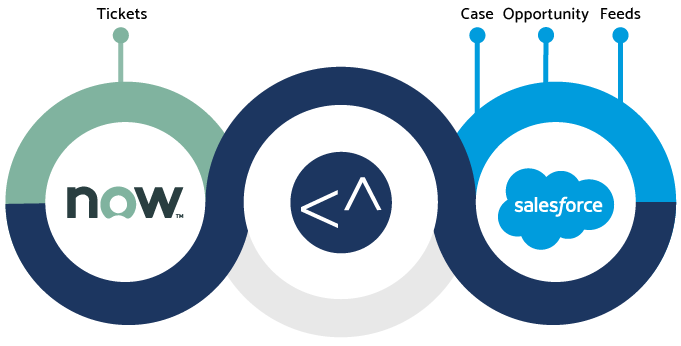 ---
---
Application Lifecycle Management
IT Service Management
Sign up for a free demo of ConnectALL now
---
Why integrate ServiceNow and Salesforce
---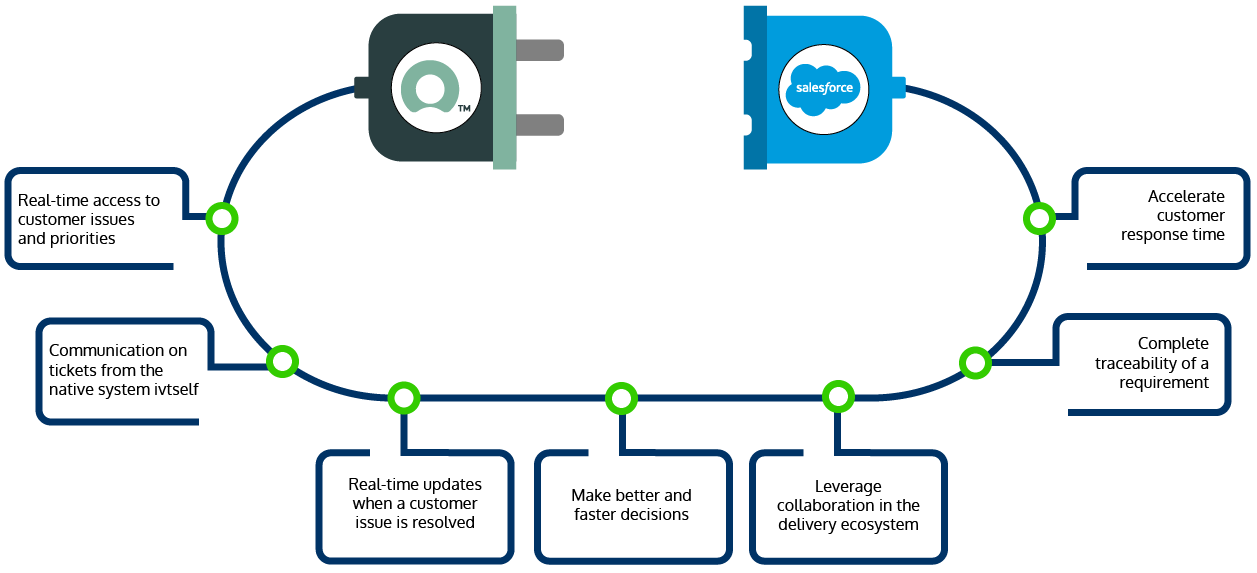 Benefits for ServiceNow and Salesforce users
Access to the customer account, priorities contacts from within ServiceNow
No manual efforts to update sales team about customer issues
No manual efforts to update support team on new customer accounts added and priorities/value of each customer account
Real-time access to the status of customer tickets and conversations between support team and customers
---
ConnectALL syncs data (historical and current) automatically and bi-directionally between ServiceNow and Salesforce, giving the users access to customer requirements in real time. Tickets from ServiceNow synchronize into Salesforce and the entities attached to these tickets also synchronize back to Salesforce.
---
Support teams have no visibility into new customer accounts signed up by the sales teams and there are unsure of what accounts need support.
---
Integrating ServiceNow and Salesforce with ConnectALL will enable the support team to get access to all new customer accounts automatically. When the sales team signs up a new customer account in Salesforce and marks this customer as eligible for support, it synchronizes to ServiceNow and gives permission to the customers to log tickets. When a ticket is logged in ServiceNow, ConnectALL links the ticket to the new account in ServiceNow and synchronizes it to Salesforce. The sales team updates the incident in a comment as critical and the support team picks it up immediately.
Watch demo of ServiceNow and VersionOne Integration
---
More Integrations with ServiceNow
---
Integrate ServiceNow and Jira Software
Integrate ServiceNow and Jira Software using the ConnectALL Integration Platform
Integrate ServiceNow and VersionOne
Integrate ServiceNow and VersionOne using the ConnectALL Integration Platform
Ready to get started?
Explore the integrations, check out the features, or get in touch