The news about Eric Robertson, an Agile, DevOps and Value Stream Management leader, joining ConnectALL, as SVP Strategic Advisor, has been a sweet surprise to everyone in the family, other industry leaders, analysts and the media. However, a lot of people in the industry have been shaking in their boots too — including competitors.
Eric is known in the industry to bring innovation onto the table and his work at ConnectALL is definitely going to transform the way our customers look at value creation and business outcomes. While Eric got his hands dirty from the word go, I managed to sit him down for a quick talk on what motivated him to join ConnectALL, his thoughts on the future of Value Stream Management, what businesses should focus on (alongside the effects of the pandemic), and what customers can expect from ConnectALL, now that he is on board.
Here's a quick excerpt of my interview with Eric Robertson:
Q: What motivated you to join ConnectALL?
Eric: I've been connected to ConnectALL through its people, especially Lance Knight, the President and COO. He's been so laser focused on advancing the company's value stream management initiatives. I've seen the impressive growth ConnectALL has had in the value stream management market and the opportunities it has as well. I saw an opportunity there, especially working with Lance, also connecting with Andrew on this common mindset of where we thought value stream management is going in the market. And so that's what I'm excited to do.
Q: What would you do differently now with ConnectALL already being a strong leader in the VSM space?
Eric: Companies now are acquiring a new operating model to really scale their methodologies and deliver a digital product more efficiently. And I'm starting to see this notion of teams built around value streams which could bring business, corporate functions and IT as well as implementation and operations together. So what we're talking about now is really defining that value lifecycle, defining what value is creating it, delivering it, being able to measure it and being able to sustain it. And I think the uniqueness that we're going to bring to the table here is that a lot of the other vendors in the marketplace talk about basically the flow efficiency around DevOps and not really looking at value. Business and development leaders see value, different business leaders think in terms of speed and outcomes. Development leaders think in terms of outputs and processes. And that's going to be a very unique value proposition for us.
"I have a pet parrot and I sometimes wish I could teach him Python. I am an avid board gamer and I love playing video games from time to time." — Eric Robertson, SVP Strategic Advisor, ConnectALL
Q: Is this going to be in some form about improving customer experience and is that the next big thing for value stream management?
Eric: Yes, so it's very interesting because when you're looking at the market, folks look at value differently, as I kind of mentioned. And customer experience has been one of the major areas as far as focus for a lot of companies right now, because it doesn't really matter if I can deliver a product very quickly, if the experience for that product is not there for the customer. Measuring and delivering value to that customer experience is very key there. And that's again, where the measurement of the objectives and the operators at the different levels across the teams becomes very critical — and making sure that you're delivering an optimized customer experience.
Q: How critical is Value Stream Management today for businesses?
Eric: Companies right now are looking at how they can clearly have a new operating model. And they need a clear vision design — an agile model being one of them as a lot of companies are going through transformations. The first thing that needs to be looked at is value. They need to understand where values are created in their industry and where the company needs to be distinctive. They need to define these value streams and they need to identify elements that could benefit from that greater agility, either more dynamic or more stable type of changes within their environment. Look at the overall structure, the overall organization and the grouping of the organization and the teams. You're going to start seeing much more cross-functional types of teams and definitely you're going to see more agile teams.
Q: How has the business landscape changed with the pandemic, and what should companies do?
Want to know Eric's answer to that question, who Eric is when he is not working, and more? Watch the full interview here and if you have any questions for the team or Eric, write to us at ma*******@co********.com.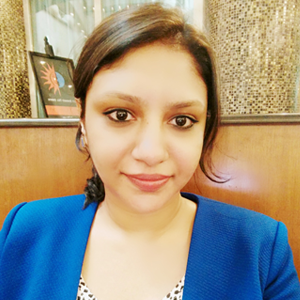 Head of Content Marketing at ConnectALL, responsible for communication and content marketing strategy. For two decades, I've assisted businesses to integrate content marketing into their marketing plans to achieve their business goals. I specialize in creating and developing content (inbound and outbound) across various online and offline channels from websites, blogs, and social media to email marketing and marketing communication collateral.