Benefits of DevOps
integration and automation
Integrating and automating your DevOps pipeline from end to end will help you significantly accelerate your entire software delivery process. Some of the core benefits are:
Improved cross-functional collaboration
Increased release velocity
Greater predictability
End-to-end visibility into your entire DevOps pipeline
Fewer defects, resulting in improved quality
Better governance and compliance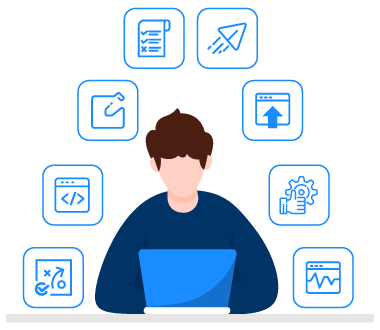 How does ConnectALL help you achieve
DevOps integration/automation?
ConnectALL's Value Stream Management Solution comprises two key elements:
The Value Stream Integration Platform and Value Stream Insights.
These two pieces work hand-in-hand to:
Integrate all the tools in your DevOps pipeline

Synchronize all the critical product information

Automate and orchestrate multiple workflows in your DevOps pipeline

Incorporate governance and compliance throughout your SDLC

Track the end-to-end software development and delivery activities

Foresee vulnerabilities to eliminate them early on and improve software quality