In a rapidly changing, chaotic, and unpredictable software world, the need is to empower humans to visualize and control a business's flow from customer requests to customer usage. Leading companies are becoming predictable by implementing value stream management (VSM) and according to a leading analyst firm, 93% of companies will adopt or expand their value stream management use by 2024. With companies adopting VSM as a means to improve flow across their software delivery value stream, visibility needs to be simplified rather than complicated.
To meet this challenge and empower users like never before, ConnectALL, the value stream management company, has released version 2.11 of its Value Stream Management Platform, which is packed with advanced value stream automation capabilities including the exclusive Logic Flow Adapters. The new version is a complete overhaul of the VSM Platform, with a modernized UI and UX, enhanced automation usability features, and an advanced capability of ConnectALL's patent-pending Universal Adapter. This empowers teams with functionality and project visibility never before available in the value stream management space.
Let's learn a little more about some of the new offerings in v2.11 and how they will change your experience and business:
Control the flow of information, create governance and maintain compliance based on logical conditions
The Logic Flow Adapters use boolean logic (AND and OR logic) to enable users to implement business workflow logic into their value streams that depend on multiple inputs from different applications. How does this work? It can create automation without scripting, by simply combining the data input points from multiple sources, evaluating and performing the output. These can be used when you want to control the flow of information through your value stream. This governance is also useful to stay consistent with internal business processes, manage the movement of records, and maintain compliance.
Use them when the next step in a value stream depends on subjective decisions of the results of the previous process or step
Place them between two or more potential automations to eliminate the need for manual evaluations to trigger next steps or events
Use them to collect data points from multiple sources and present the results to a Dashboard at regular intervals
Use them to monitor the state of an Automation, and alert someone when a negative state occur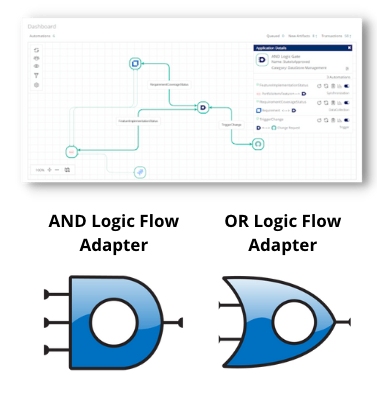 Use case 1: Create change request automation with aggregated data by creating conditions on story completion, test coverage, and security scans
Use case 2: Orchestrate and manage releases for continuous deployment by adding conditions on package availability, security scans, and performance scan results
Business value: Improved efficiency, flow control, governance, and compliance
[Want to understand the business value of ConnectALL's new and advanced capabilities? Sign up for a customized ConnectALL demo]
Make better decisions using multiple views based on automation, value streams, and groups
ConnectALL now comes with a modern UI that has advanced viewing capabilities.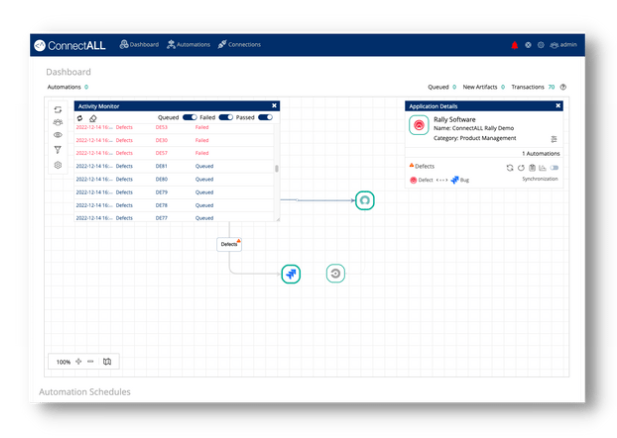 Dashboard view: to monitor the flow of work, filter or focus on particular items, and enable alerts and notifications for specific updates and actions
Filter by Team/Value Stream: Users can use the filter by team or value stream option to get more granular information. These associations help users to more effectively focus on and manage your specific teams and value streams.

Value Stream view: This view is a new and enhanced version of the Value Stream Visualizer, where users can create, modify, and take action on automation in the context of a targeted value stream diagram.
List view: This view enables users to manage automation from one place with the opportunity to filter, sort, and take action on automation.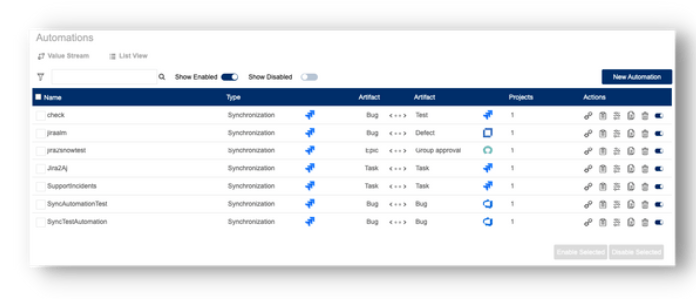 Business value: Improved usability
Visualize and manage the flow based on purpose-specific automation
ConnectALL's value stream automation sits on top of the value stream and allows users to set different automation types — synchronizing, monitoring, triggering, and collecting data. The updated version enables users to visualize the flow in the value stream based on these specific purposes. Users can filter the view based on specific types and take the necessary actions. Users can also set specific categories for their application connections and specific types for automations. This allows users to organize, filter, and sort connections and automations based on their function or purpose, helping them to better manage their value stream.
Business value: Improved usability and visibility, faster decision making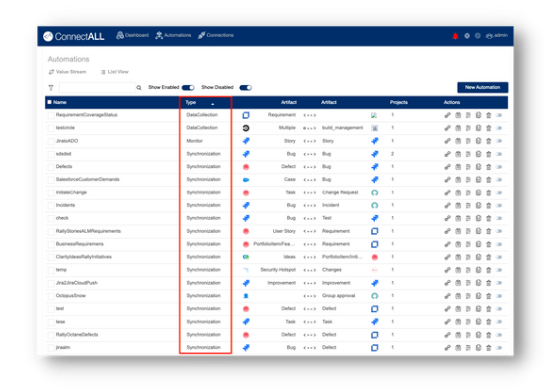 Create new connections quicker using the Universal Adapter's automated creation capability
The new Universal Adapter creation enables users to build new connections faster. ConnectALL automatically fills out configuration data instead of a user manually filling it out. By choosing to create a universal adapter with an API spec, users can provide the location of an open API or Swagger specification, and ConnectALL will scrape the relevant data from there. This automated step makes it much easier to build new Universal Adapters and connect tools quicker.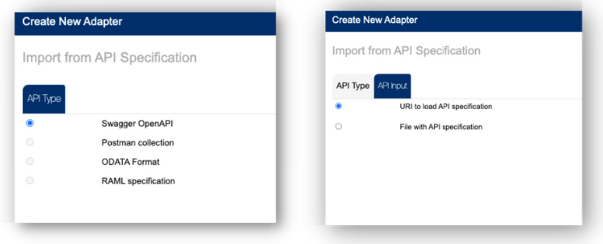 Build connections for for External Application provided APIs
Build the Universal Adapter with a wizard instead of manual processes
Add fields and operations to the adapter as you build it
Business value: Improved usability and efficiency
Intercept data flow with scripting at multiple points in the automation
Management of custom scripts enables users to own and manage all custom scripts from a single hub — allowing to write, manage, and execute the script without touching anything in the backend. Users can:
Associate one script with multiple automations
Set the workflow for which scripts to execute and when
Plug in the script at any step of the business process
Associate the same script with multiple automations
Choose the approval flow to have control over which code is executed
Business value: Improved usability, and flow control

Predictability is no more a distant dream in software development
With this latest release, ConnectALL continues to empower the real drivers of VSM – humans – to automate their entire value stream, as well as gain unprecedented visibility with granular insight into activities at every level and stage of the process. ConnectALL's ability to understand the market and customer needs have been recognized by analysts, and existing and potential customers — giving it a competitive advantage.
"We want you to imagine a world where we turn chaos into predictability; a world with ConnectALL, where you can have complete control over flow; where integration and automation is not a bottleneck; where integration deployments are hours and not weeks; where you could connect to any solution in the value stream; where you have visibility into all the applications in your ecosystem."

Lance Knight, President & COO, ConnectALL
The Logic Flow Adapters, the Universal Adapter, in tandem with other automation capabilities enable companies to radically streamline the efficiency of their software delivery value stream.
ConnectALL continues to provide a complimentary value stream designer on valuestreammanagement.com and is working on making it simpler yet effective for users to create value stream diagrams as part of their lean practice. This free tool is enables users to also leverage the Value Stream Assessment, which is a 2-hour program to create current state value stream map using the Designer.
All existing users of ConnectALL can easily upgrade to the 2.11 version, while any new customers will automatically get the 2.11 version.
Excited? We definitely are for you, your customers, and for us. So what are you waiting for? Find out how these capabilities and more superpower your use of value stream management to become more predictable. Schedule a demo now and get talking to our solution architects.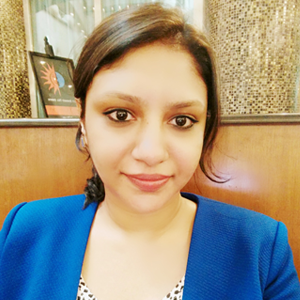 Head of Content Marketing at ConnectALL, responsible for communication and content marketing strategy. For two decades, I've assisted businesses to integrate content marketing into their marketing plans to achieve their business goals. I specialize in creating and developing content (inbound and outbound) across various online and offline channels from websites, blogs, and social media to email marketing and marketing communication collateral.