A new release of ConnectALL Integration Platform 2.9.2 is available now, with integration support for Cherwell Service Management application (cloud and on-prem 9.4.5 version) as a significant addition. Cherwell is a leading ITSM provider and the Cherwell Service Management software is a comprehensive service desk for ITIL processes. It is flexible, enables organizations to meet changing and growing demands across departments and functions, enhancing ConnectALL's ability to bring voice of customer into your values.
You can now improve cross-team collaboration and transfer value not only between your support teams and developers but also deliver value to end users and customers. The bi-directional flow of information in your value stream will lead to informed decision making and resolving issues, removing overhead wastes, improving time-to-market, and increasing time-to-value.
The new version also has some enhanced support features and framework for the Custom Application Adapter, and improved UI with user fields configuration capability.
Below are the release highlights. For full details on new integrations, support features, supported artifacts and endpoints, check out the release notes or request a demo.
Supports integrations for Cherwell Service Management
The key feature of ConnectALL 2.9.2 version is its support for synchronizing data from Cherwell Service Management systems to a wide range of application endpoints. Cherwell Service Management is a configurable, scalable, Out-Of-The-Box (OOTB) service desk solution based on IT Service Management (ITSM) best practices and the ITIL framework.
With ConnectALL's integration capabilities for Cherwell Service Management, your support teams and end customers using portals can now manage incident and change management in collaboration with other DevOps teams. Cherwell's ITSM application can be integrated with any project tracking ALM and DevOps tools like Jira Software, VersionOne, Azure DevOps and more. This will help your developers and support teams be in sync in delivering customer requests and resolving issues.
All information related to service tickets flow bi-directionally between teams – providing end-to-end traceability in software development. This will make sure that the teams are working more collaboratively and effectively with the tools of their choice. There is reduction of overhead wastes, no duplication, no spreadsheets or emails or status update meetings. The value in this integration extends beyond service management — all the way to end users and customers.
Key highlights
Entity mapping
ConnectALL's Cherwell Service Management Adapter provides synchronization capabilities for all the "Major" business objects such as Incident, Problem, and Change Request. These objects will be listed for mapping with the destination system in the entity mapping screen as shown below.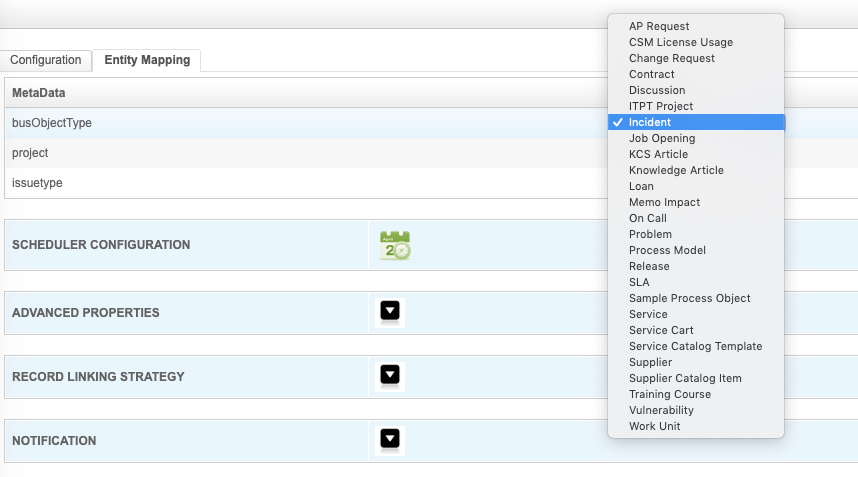 Comment synchronization
Cherwell Service Management tracks the comments and record modifications as a "Journal" object which is a Group. "Journal Group" has multiple children and Journal Note, Journal Comment are among them. These two objects provide the comment handling behaviour of Cherwell Service Management application. ConnectALL provides the capability to synchronize comments from destination systems in one of these objects.

Attachment synchronization
ConnectALL currently supports the import file feature of Cherwell Service Management and can synchronize attachments between other applications.

Relationship synchronization
ConnectALL allows users to synchronize parent-child relationships between Cherwell Service Management and destination systems.
Use case (Cherwell Service Management – Jira Software)
An IT support engineer receives an Incident request from customer logged in Cherwell Service Management. After the analysis, the support engineer will log a "Problem" in Cherwell Service Management which will be synchronized by ConnectALL as a Jira issue. As the engineering team starts to work on the Jira issue, any subtasks created under the Jira issue are to be synchronized as Cherwell Service Management tasks under the associated problem.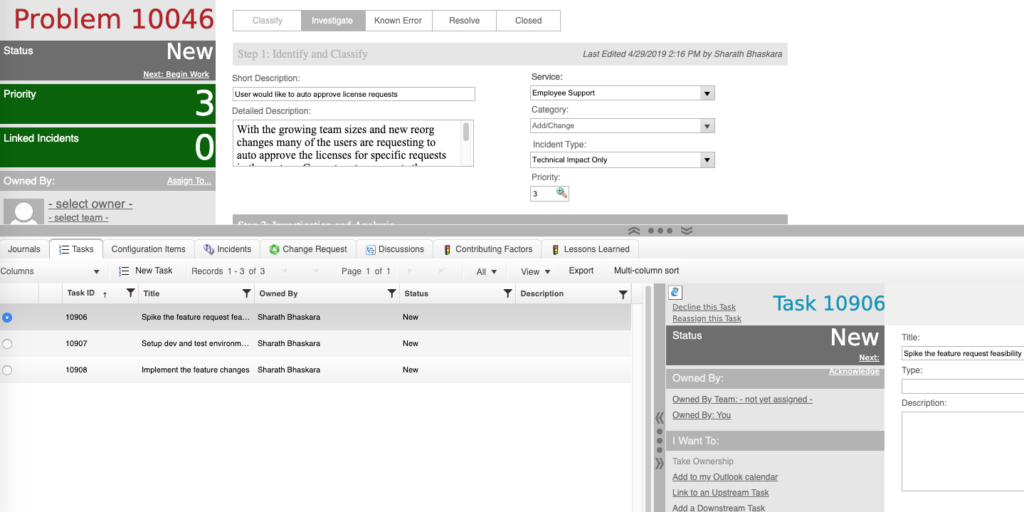 Enhancements to Custom Application Adapter framework
ConnectALL's new version has also enhanced the Custom Application Adapter framework for better customized integrations.
Addition of Webhooks support bringing in more flexibility for custom integrations.
Supports polling of modifications of records at a defined frequency in the application.
Improved UI for user field configuration
The ConnectALL 2.9.2 version also introduces fresh and improved UI to map fields that are user configured.
How does it add value?
Helps integrations where some fields are not supported through an application's standard metadata interface.
Helps integrations where there is no defined interface for field metadata retrieval.
Also in Version 2.9.2
ConnectALL has also resolved several issues to give you an enhanced experience. In addition, the new version also has upgraded ZKoss framework to version 8.6.0.1.
Want to know more about the ConnectALL Integration Platform?
Request a personalized product demo to see the multiple benefits that value stream integration can bring to your software delivery teams and business.
---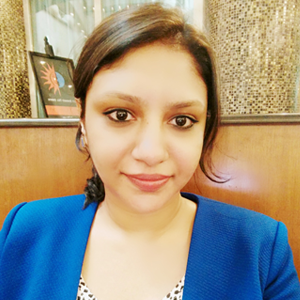 Head of Content Marketing at ConnectALL, responsible for communication and content marketing strategy. For two decades, I've assisted businesses to integrate content marketing into their marketing plans to achieve their business goals. I specialize in creating and developing content (inbound and outbound) across various online and offline channels from websites, blogs, and social media to email marketing and marketing communication collateral.