Why has self-service integration suddenly gained popularity among enterprises? Organizations today are dealing with voluminous number of applications, devices, and data introduced by cloud, mobile, big data, and the Internet of Things (IoT). With the advent of automation and continuous everything, the situation is likely to get more challenging. The biggest concern is that some of these applications are not even purchased through IT, which brings in the issue of central governance and monitoring. The current scenario is forcing organizations to pursue self-service integration; data scientists, power users, and business users, who are ideally citizen integrators, are embracing it.
Most integration technologies are designed to speak to apps and not users. You either need to be well-versed with REST, ESB, SOA, or SOAP or completely rely on IT teams to build integrations. In addition, traditional integration solutions are not at all scalable. Rapid, self-service integration technology is a reality today and is one of the top trends in integration in 2018. Businesses are increasingly getting exposed to the value self-integration brings to IT in containing costs, enabling business agility while maintaining visibility and control over data.
Manage and monitor integrations on a central integration platform
Self-service integration enables non-technical users to connect services and applications in an intuitive manner without exhausting valuable resources. It enables citizen integrators to build and deploy their own integrations in a few clicks with pre-built templates. This frees IT from the burden of building integrations and its maintenance.
Self-service integration tools, platforms, or solutions used for self-service integration allows centralized governance and security and also helps avoid integration project backlogs
Pre-built integration templates to popular applications are introduced in a business application or product offering without spending too much time on manually built integrations
Frees IT from the burden of building integrations and its maintenance and enables to add value toward digital transformation
Ensures the quality and consistency of business demands
Business users can easily become citizen integrators
According to popular research agencies and analysts, by 2021 at least 50% of large organizations will incorporate citizen integrator capabilities in their strategic integration infrastructure. Self-service integration tools enable business users to become citizen integrators customizing available cloudstreams or applying integration recipes and prebuilt flows.
Business users are increasingly becoming technology savvy and they are looking for self-service approaches to handling simple integration tasks at work that was once dependent on IT specialists, for example low-code or no-code applications, self-service data preparation, uploading new leads into a CRM system; updating a spreadsheet or refreshing the contents of a portal when a new partner signs up for a certification program; or sending an email to the social media team when the company's Twitter handle receives a direct message.
With the help of the self-service integration platform, citizen integrators can automate their own work and create the underpinnings for more-streamlined interactions with customers, prospects, and partners. To avoid compliance risks or technical debt, it is essential that applications leaders, with the help of business users, procure the right self-service integration tool. This will empower the frontline employees with 'do it yourself' capabilities that encourage innovation and minimize risks.
How do you choose the right self-service integration solution?
Self-service integration builds the technological and cultural foundation required for long-term business agility, and bridges information silos. Application leaders responsible for integration should evaluate three complementary architectures to empower self-service: embedded integration, stand-alone integration and data preparation. An ideal self-service integration platform should be able to:
Support the full spectrum of constituents (specialists, ad-hoc, and specifically citizen integrators, who have no professional IT experience, but are increasingly technology-savvy such as business users or consumers)
Target cloud and on-premise deployment models removing the need for IT to manage the platform
Link any combination of cloud and on-premise end-points from ALM, DevOps and business systems

E

nable users to quickly configure, run, and manage the life cycle of simple integration flows
Provide an intuitive user experience: create new integration flows by mapping predefined endpoints via if/then modeling and/or configure prepackaged integrations
Address a wide-range, and any combination of, use cases (B2B, application, data, and process integration) with near real-time data synchronization
Organizations should consider an easy-to-use integration system that is built to help teams become self-sufficient. It requires no coding — specialists, ad-hoc, and citizen integrators do not have to depend on a central technology team. They can access integration features and functions themselves. Authorized users with self-service access to the hybrid integration can be easily defined via a user experience portal.
Let us help you choose the right self-service integration platform. Contact us and let us know your requirement. And do not miss to follow our next set of posts on self-service integration.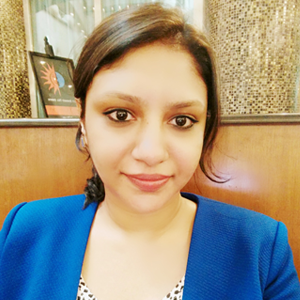 Head of Content Marketing at ConnectALL, responsible for communication and content marketing strategy. For two decades, I've assisted businesses to integrate content marketing into their marketing plans to achieve their business goals. I specialize in creating and developing content (inbound and outbound) across various online and offline channels from websites, blogs, and social media to email marketing and marketing communication collateral.