Rapid, Self-Service Integration Approach for your Digital Transformation Initiatives
At the recent Gartner Symposium/ITxpo held in Orlando, Florida, one of Gartner's notable speakers said, in the opening keynote, "…the cost of value creation everywhere is integration everywhere…"  He described this as "the ability to integrate everything with everything; to quickly add and subtract ecosystem partners."
Rapid, self-service integration technology exists today, using available applications and frameworks.
...the cost of value creation everywhere is integration everywhere..
Integration: More Important Than Ever
---
Integration has always been important and is becoming more critical than ever for success in the era of digital business. The realities of digital-everything, mobile, cloud, Internet of Things (IoT), post-modern application strategies, analytics, and transient and volatile business relationships are forcing many IT Leaders to reshape their integration strategies to support fast integration of applications, processes, and data. Reshaped integration strategies will impact partners, suppliers, clients, employees and other constituents, in terms of efficiency, effectiveness, and innovation. Without a strategic perspective, integration practices will hamper, rather than empower, business innovation.
As IT Leaders recognize the need for new integration strategies, they are adopting what Gartner calls a "Hybrid Integration Platform" (HIP).  As defined by Gartner, a HIP is a federated set of Enterprise Service Bus (ESB) and cloud-based integration technologies. At the Symposium/ITExpo, they described it as "a capability framework that even non-technical users can implement their own integration." 
A hybrid integration platform has four (4) critical dimensions (See Figure 1):
Hybrid integration personas (integration specialists, "ad hoc" and citizen integrator)
Hybrid deployment models (cloud, on-premises, and hybrid)
Hybrid integration patterns (application, data, B2B, and process integration)
Hybrid endpoints (cloud, on-premises, mobile and IoT)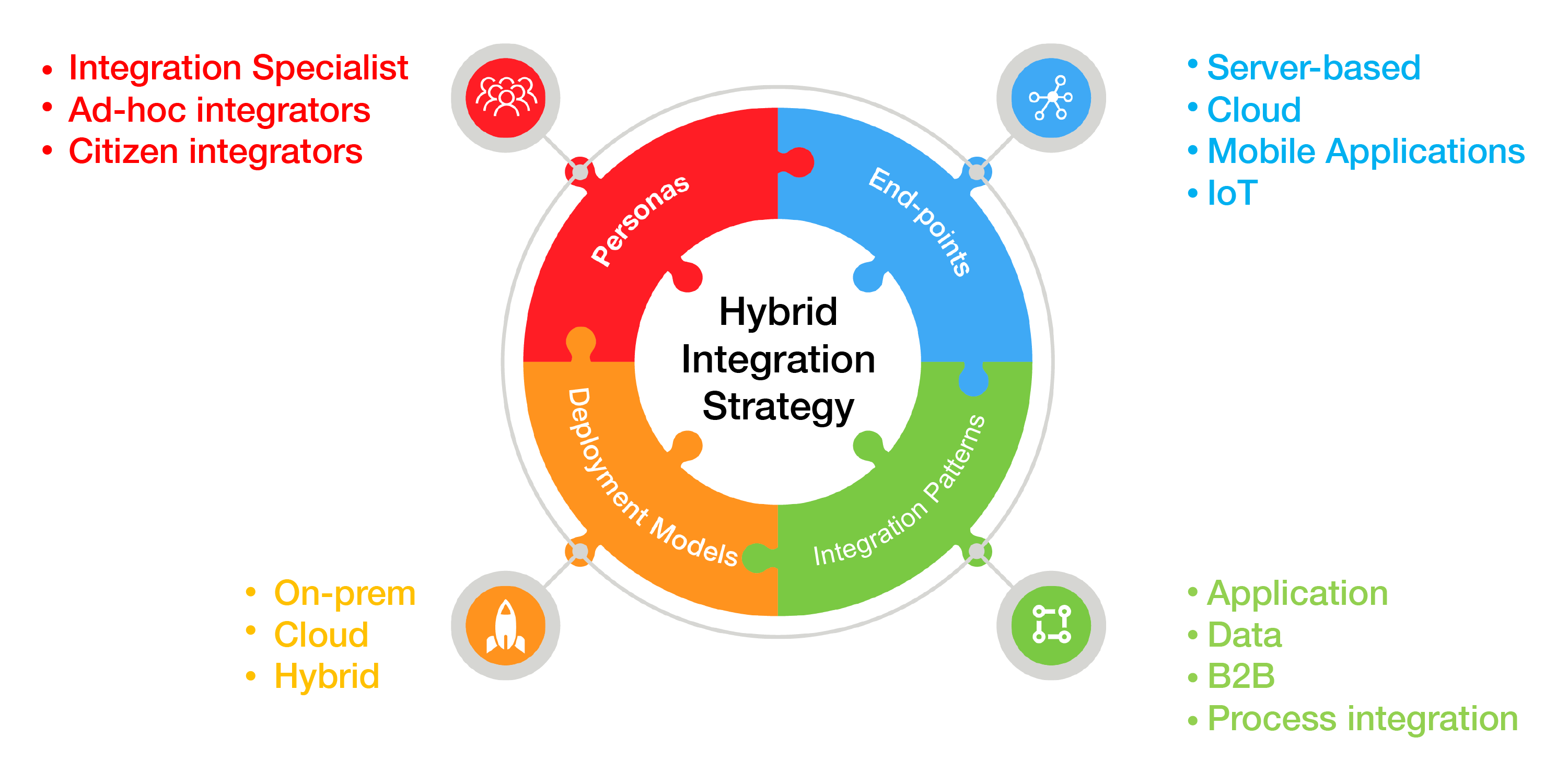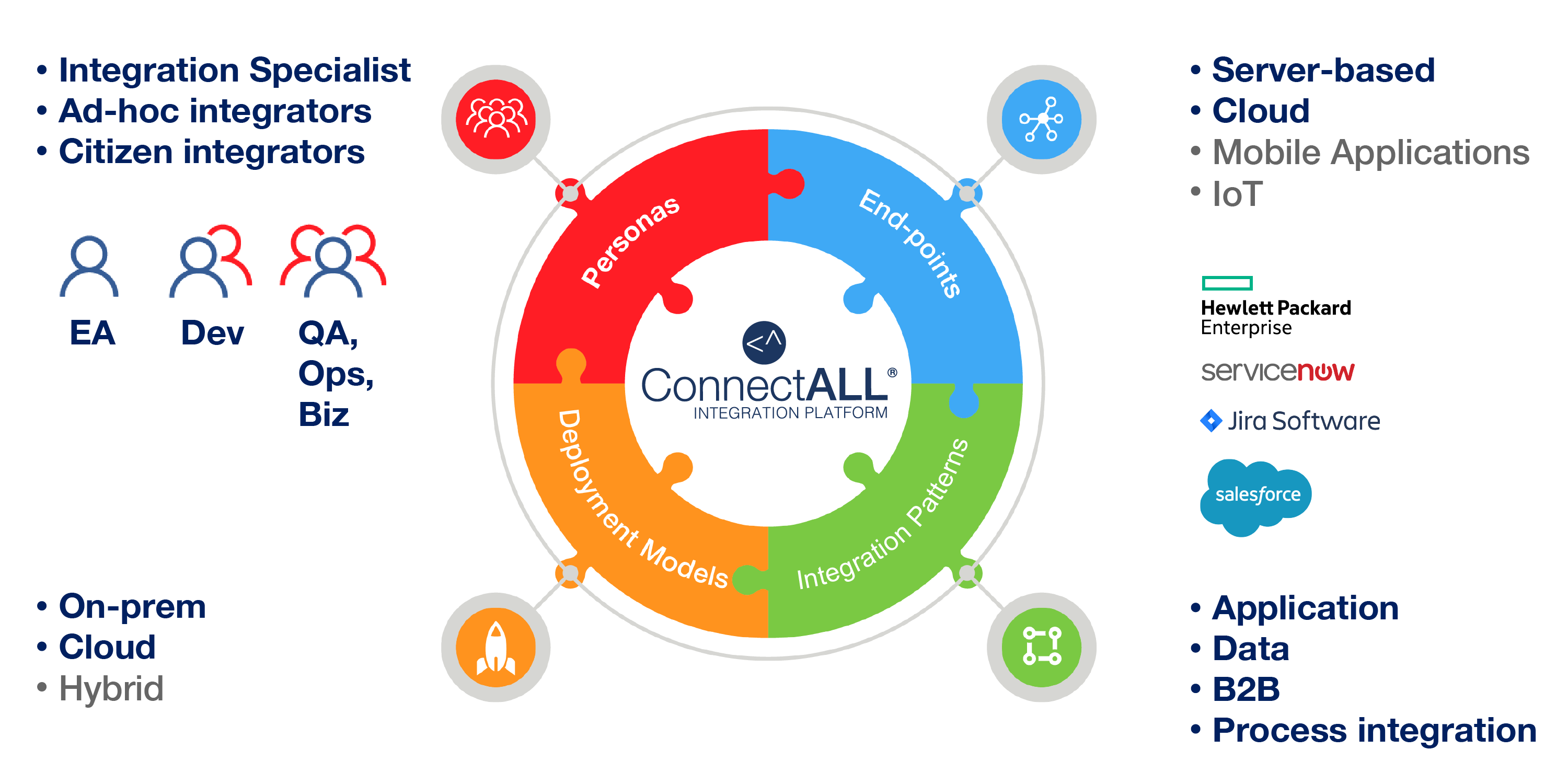 No single product comprehensively supports the four dimensions of the hybrid integration today, but there are integration technologies that can cover multiple aspects of your target HIP. The ConnectALL Integration Platform is an example of a platform that can cover multiple aspects of your target HIP (See Figure 2).
While you can choose from a wide range of integration platform offerings, it has to be managed as a federated, integrated, and cohesive whole. An integration platform can give you a federated, enterprise-class foundation.
Integration Personas
---
Many functions or groups of people need integration. By characterizing them as hybrid integration personas, we can better understand the needs of all uses. Gartner offers three personas: 
Integration Specialists typically do application integration, B2B integration, and data integration. Integration work is the primary focus of the integration specialist. Examples include Enterprise Architects, Application Architects, System Integrators.
Ad-hoc integrators typically do application development, API creation, mobile application development, or cloud service integration. Integration is not their main focus but is required to complete their job. Examples include Developers, API product managers, and SaaS administrators.
Citizen integrators are typically business users of IT, or non-technical users who view integration as a means to automate workflows to mprove their productivity and to enable them to get the most value from the data they are authorized to access. Examples include CRM users, QA Managers, IT Ops, or Service Managers.
Most of our customers worldwide have invested in a classic, on-premises integration platform from well-established vendors.  These kinds of integration platforms are quite effective in supporting complex and systematic integration requirements, but are proving to be complex and expensive to support the integration requirements of ad-hoc and citizen integrators.
Ad-hoc and citizen integrators need specific tools that are focused on ease of use, fast time to integration, low cost of entry and short learning curves.  These are the main capabilities that drive them to look at ConnectALL.  ConnectALL is a solution that can (See Figure 3):
Support the full spectrum of constituents (specialists, ad-hoc, and citizen integrators)
Target cloud and on-premise deployment models
Link any combination of cloud and on-premise end-points from ALM, DevOps and business systems
Address a wide-range, and any combination of, use cases (B2B, application, data and process integration) with near real-time data synchronization
The key aspect of ConnectALL lies in its support of self-service delivery of integration capabilities.  ConnectALL is an easy to use integration system that is built to help teams become self-sufficient. It requires no coding — specialists, ad-hoc, and citizen integrators do not have to depend on a central technology team. They can access integration features and functions themselves.  Authorized users with self-service access to the hybrid integration can be easily defined via a user experience portal.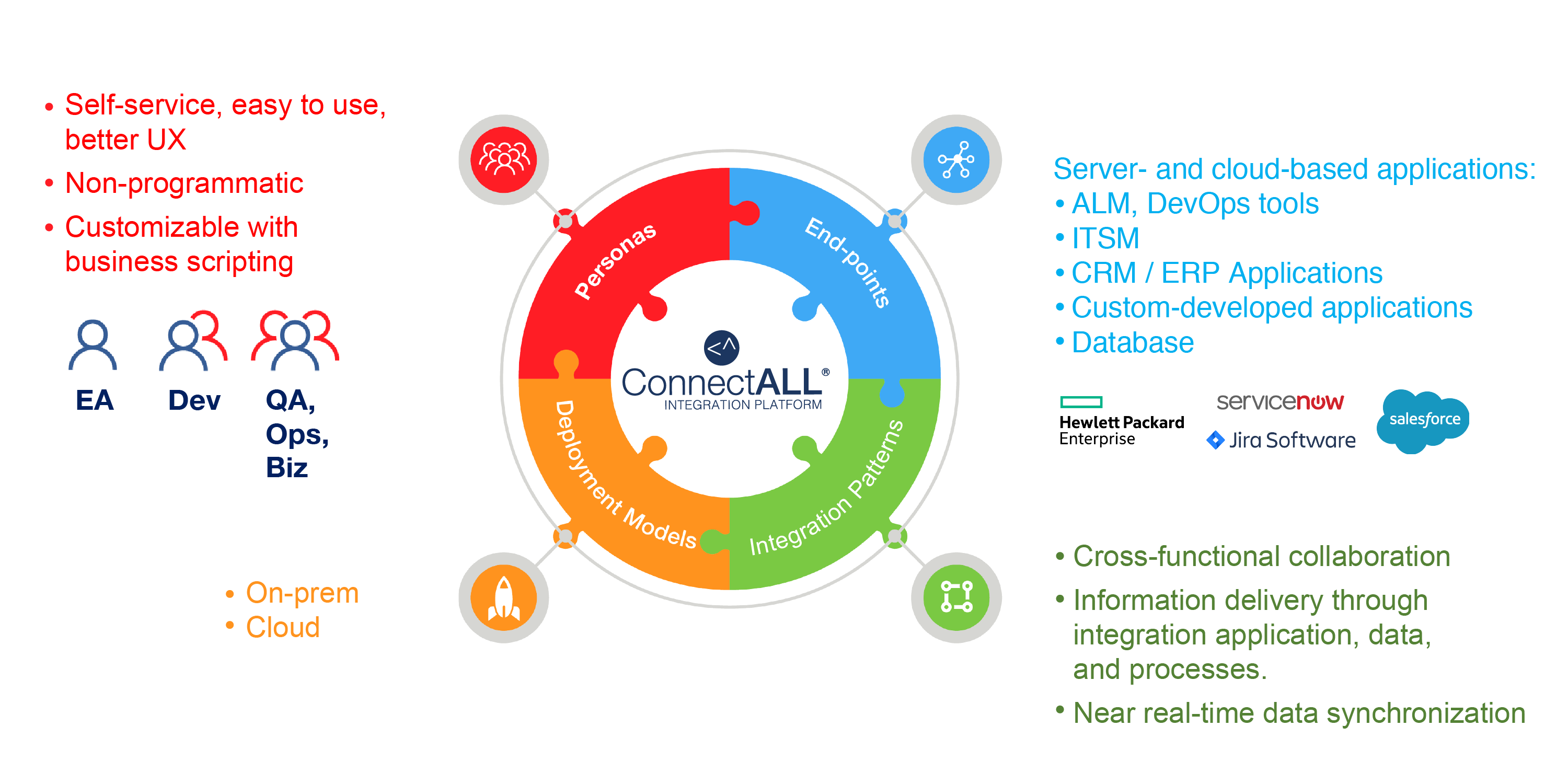 Key Takeaways
---
Implementing a framework for hybrid integration is not a simple task, whether your organization has complex and varied integration requirements, or minimal integration skills.  It may be risky to engage in a massive integration project with a big-bang approach.  Plan an incremental implementation based on business priorities, available skills and budget.
The key to an effective hybrid integration lies in its ability to enable decentralization (via a self-service portal) while maintaining some levels of centralized control by enforcing security, administration, monitoring, and management.
Ready to get started?
Explore the integrations, check out the features, or get in touch.