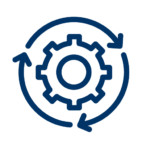 Automate Your Value Stream
Increase Efficiency by Optimizing Your Software Delivery
Learn how to integrate, orchestrate, and govern the flow of work in your value stream.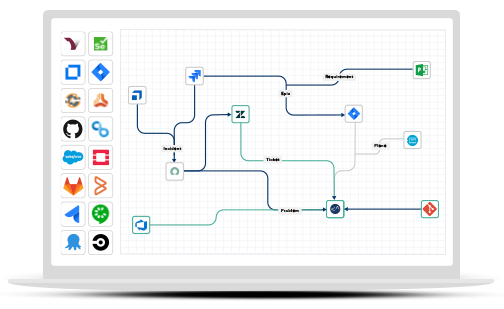 Integrate all the tools in your value stream
---
Enhance the constant stream of communication between teams by connecting unlimited tools across your software delivery value stream. Using pre-built and customized adapters, integrate your DevOps, CI/CD, security and monitoring tools. ConnectALL's integration capabilities enable bi-directional synchronization of information between all the tools in the software development value stream, simultaneously keeping records updated while collecting and analyzing the data needed to make informed decisions.

Orchestrate your workflow
---
ConnectALL's VSMP has built-in orchestration capabilities that allow you to coordinate actions within your workflow. You can easily:
Create tickets
Trigger application builds, deployments and rollbacks
Run automated tests and application releases
Automate change approvals
Improve cross-functional collaboration between Development, Quality, and Operations teams

Govern the flow of work across the value stream
---
ConnectALL's VSMP offers native governance and security capabilities, including compliance controls that sync data according to specified criteria. With these controls embedded in your value stream, you can decrease security risks that could affect quality and reliability as part of release management.
Want to learn how to accelerate your software delivery?
Work with our value stream architects to map out the current and future state of your software value streams. In this complimentary session, we will identify the tools, the people, and the processes that transform ideas into working software.
SCHEDULE MY VALUE STREAM ASSESSMENT NOW
How ConnectALL's VSMP Works in 3 Steps

Using the Visualizer, see and monitor the end-to-end flow of work across your entire software delivery value stream.

Using Insights Analytics, utilize data from across your value stream to measure the metrics that matter and become more predictable.

Using ConnectALL's VSMP, fully automate your software delivery value stream by integrating tools, orchestrating workflows, establishing governance, and synchronizing environments.