Value Stream Metrics in Software Delivery
What is a value stream in software delivery and why are metrics important?
A value stream in software delivery encompasses a set of processes, people, and tools that work together to deliver a product or service that adds value to your customers.
The Ultimate Guide to Lean Metrics in Value Stream Management is designed to help you understand the importance and criticality of establishing and monitoring lean metrics in your software value stream. It also includes free SQL code to give you a jumpstart on monitoring lean metrics in your value stream today.
Download "The Ultimate Guide to Lean Metrics in Value Stream Management - 2020"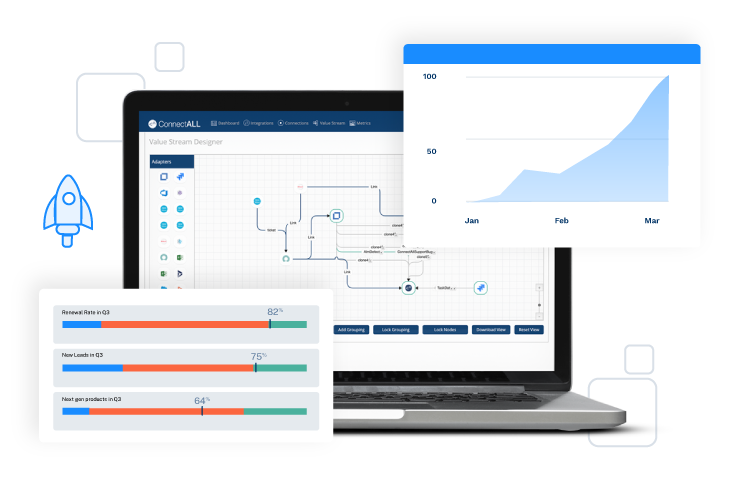 Typically, value streams are complex because of the multitude of processes, people and technology that are involved. Therefore, it's impossible to fully understand how healthy the value stream is with the help of a mere value stream map.
Then, how can you gauge how fast you're delivering value to the customers? How will you know what slows your delivery? This is why it becomes critical to track lean metrics throughout your value streams.
What are the lean metrics you should track?
Although the "lean" concept was born of the manufacturing industry, it has been widely adopted by the software industry over the years.
Lean metrics are the measures that can provide actionable insights into the health of your value stream, helping you identify bottlenecks, issues, and constraints that impact business outcomes and slow down the delivery of value.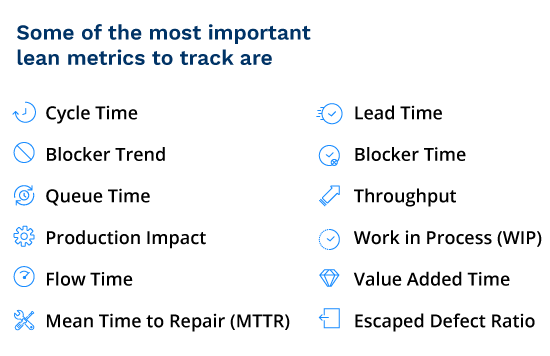 How can lean metrics help you achieve
the desired business outcomes?
Every value stream aims to achieve one or more desired business outcomes. Evaluating the lean metrics against the business outcomes helps you connect the work done in each value stream with the business results it produces. This will provide the insights you need to optimize your processes further and achieve the desired results.
Associating lean metrics with the business results
Does a reduction in the Mean Time to Repair (MTTR) result in better customer experience?
Do shorter flow times in Q2 correlate with the increased revenue in Q3?
Do shorter cycle times lead to a faster time-to-market?
Does a lower defect escape ratio result in improved customer satisfaction?
How does ConnectALL help you track lean metrics?
ConnectALL's Value Stream Insights, part of ConnectALL's Value Stream Management solution, is a customizable, real-time analytics solution designed to help leaders and managers capture, visualize, and analyze the various IT performance metrics in your software delivery value stream.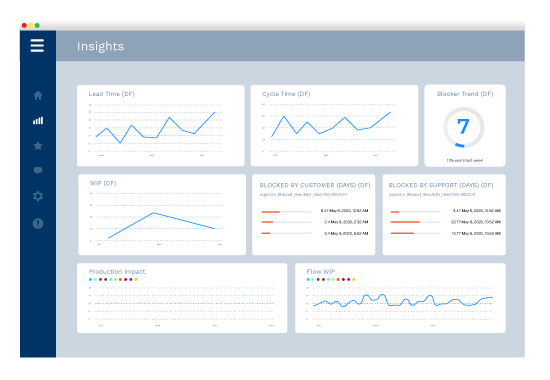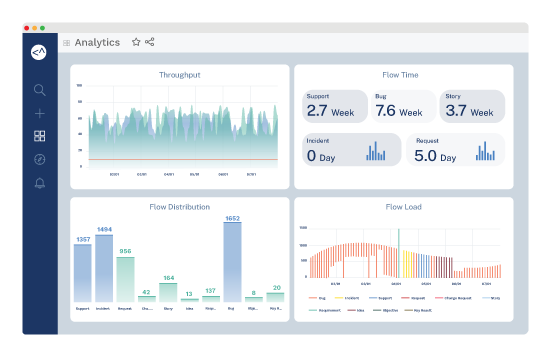 ConnectALL's Value Stream Insights comprises three key elements:
Insights Adapter - Captures data from ANY source in your value stream
Insights Analytics - A reporting dashboard that helps in extracting lean metrics that businesses need to make better decisions
Insights Services - Helps organizations get started with measuring lean metrics throughout their value streams.
How can ConnectALL help you in your area of focus?
Stay on top of things that are tied to your business outcomes

Make well-informed decisions with the help of the insights derived

Align your IT and digital initiatives with business outcomes

Measure what you're delivering today and discover ways to improve
Development teams/managers
Gain end-to-end visibility into all your development and delivery activities

Track end-to-end efficiency and velocity. Show the value you're delivering to the business

Optimize your resources and processes based on the insights

Track all the development activities and avoid governance, compliance and security clogs
Identify roadblocks, missed releases, bottlenecks, and vulnerabilities

Identify growth opportunities, reduce costs, and understand competitive advantage

Track changes to headcount, process and tooling, development cadence including planning, funding, releases or sprints